Green Initiatives
Kenyon Press, Inc. is committed to continual improvement as well as responsible business practices. We embrace the opportunity to partner with those taking steps toward environmental responsibility.
Recognizing that each of us is charged with reducing our carbon footprint, Kenyon Press is proud to be partnered with our suppliers and buyers in this important endeavor!
The current business trends of waste minimization and reduction of carbon footprints have always been the standard in our facility. These days, we are all looking to do our part and save a little while we're at it.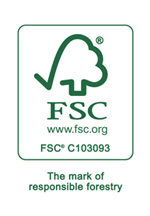 Materials:
Kenyon Press, Inc. has been audited and approved by SGS, an organization accredited by the Forest Stewardship Council® (FSC®). This means we can offer our customers the option of printing on paper that is GUARANTEED to come from a responsibly managed forest. The inks used on our web presses are based on soy oil, a renewable raw material.
Energy
Our eco-friendly facility is 94% hydro-power supplied, with the balance coming from a nuclear facility. This helps keep our carbon emissions very low.
To learn more, please visit: http://www.nypa.gov/facilities/niagara.htm